Dublin, Pubs of Dublin
McDaids Public House Dublin
€11 – €60
he pub was once the City Morgue and was later converted into a chapel for the Moravian Brethren, hence the high ceilings and the Gothic style windows. McDaids has been identified by Joycean scholars as the setting for the opening of his story, Grace. Brendan Behan was a regular in the pub and he would regularly entertain the crowd with his vast repertoire.
McDaid's was also the one time haunt of Patrick Kavanagh, Flann O'Brien, J.P. Donleavy and Liam O'Flaherty. It is said that Behan based some of his characters in The Hostage and Borstal Boy on publicans he met in McDaid's.
Nowadays McDaids provides jazz and blues music.
Description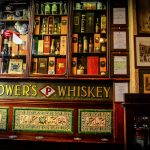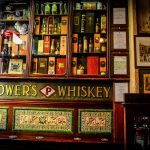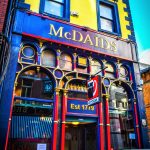 Additional information
| | |
| --- | --- |
| Color | Black & White, Colour, Sepia |
| Size | 12 x 8 print €11.00, 16 x 12 Print Mount €15.00, 15 x 10 print €16.00, 20 x 16 Print Mount €23.00, 18 x 12 print €20.00, 22 x 16 Print Mount €29.00, 21 x 14 print €23.00, 26 x 19 Print Mount €33.00, 24×16 print €28.00, 29 x 21 Print Mount €36.00, 30 x 20 print €40.00, 35 x 25 Print Mount €60.00 |